National Social Work Month: Celebrating those who Strengthen Generations
by Heather Britton, SWAN LSI Coordinator

March 17th is known for the celebration of St. Patrick's Day and all things Irish, but this year it was also a special day for our profession. The entire month of March is National Social Work Month with the third Tuesday celebrated as World Social Work Day. For 2020, the National Association of Social Workers chose the theme "Generations Strong" to honor how social workers build healthier generations and represent generations from The Greatest to Gen Z.
The SWAN prime contractor knows there are countless stories of how caseworkers go above and beyond for the children and families they serve. I am going to highlight just one. It begins in October 2015, when 16-year-old Rolando Cruz Castro first entered care in Dauphin County. Adolescent Program Specialist Jamie Lester remembers meeting Rolando for the first time in a Family Group Conference. She recalled that he was quiet and "seemed very sad. I remember how much he wanted to be with this mom." Unfortunately, reunification was not in Rolando's best interests.
Jamie got to know Rolando better as he attended the county's Independent Living classes at Valley Youth House (VYH) and served on the Youth Advisory Board. During this time, Rolando and VYH Life Skills Coordinator David Banks developed a close relationship, too. Rolando said, "Since I met Jamie and David, they've been very supportive of everything I've been doing. They constantly pushed me to do better, and I couldn't be more grateful for that." He added that David "has always been very easy to talk to. I know I can go to him with any issues I have. Communication is very important [and] it's one of the strongest things in our relationship."
In Spring 2019, Rolando said he wanted to join the Navy. Jamie's son was in the Navy, so she took a special interest in helping Rolando achieve his goal. She connected him to a recruiter in Mechanicsburg and, together with David, walked him through – and drove him to – every step of the process: the eligibility interview, taking the Armed Services Vocational Aptitude Battery, beginning the Delayed Entry Program until a spot opened up in the fall, and preparing for the rigors of boot camp. Jamie felt really connected to Rolando because of her Navy knowledge. She was careful not to push Rolando, but was happy she "could bring that experience to him. I told him the good, the bad, and the ugly and was able to connect with him in that way."
On December 12, 2019, Rolando departed the Military Entrance Processing Station (MEPS) in Mechanicsburg for boot camp at the Great Lakes Naval Training Center in Illinois. David and Jamie drove Rolando to MEPS to wish him well on the next step in his journey. He used his one phone call upon arrival to inform Jamie he had made it there safely.
Rolando's graduation, or Pass in Review, was scheduled for February 7, 2020. He could invite three people to the ceremony and sent two of those invitations to Jamie and David. Their contact with Rolando was limited during boot camp, so they committed to attend via letters and began making travel arrangements, sometimes with their own money. While Rolando knew they were coming, he was not permitted to see them before the ceremony. David said, "We told him we were coming but he had trouble finding us in the audience. I found him in the crowd after it was over, walked up behind him and tapped him on the shoulder. His face lit up when he saw me and he turned around and gave me a hug. I then pointed Jamie out in the audience as she made her way down. That was my favorite moment of the day: the look on his face when he realized we really were there to support him."
Jamie shared a graduation photo of Rolando in which, she said, "he does not have that look of worry, of contemplation" she had seen on his face many times before. She recalled asking to take his picture at MEPS meetings and his swearing in. "He didn't want to, and he often had this fake smile." Jamie told Rolando, "'Someday, you might want pictures of these moments,' and he had some really good ones on graduation day." Gesturing to the picture, she said,"That was my favorite moment. That's not a fake smile. He was genuinely happy."
Rolando shared his gratitude, saying, "It was very nice having them come out and be a part of [my graduation], especially with my mom not being able to come." He added that Jamie and David gave him "one of the biggest pushes I ever had in my life, and I know I will continue to have. They will always be a part of my life. They've helped me get so far, make something of myself and become a better person." Jamie and David both expressed how proud they are of Rolando, and how happy they were to share in his graduation. "There's one time in his life he'll get to do that," said Jamie. "He's always going to remember what it felt like and who was there, and I was glad I could do it."
Jamie and David are most rewarded by building relationships with teens and young adults, seeing them succeed, and knowing they had an impact. "I still get calls from kids who are way past 21 to check in to let me know they're doing okay," said Jamie. "That's what makes it worth it." David added, "The biggest 'thank you' is witnessing the beginning stages of how successful they can be. Our youth are not always [as successful as Rolando] when they exit care or, sometimes, that success comes later and we don't get to see it." Jamie agreed and said, "It's so exciting. All you want for them is to have a place to live, have skill, an education, and medical benefits. Rolando did every one of those just by joining the military, and it was something he really wanted to do."
Clearly, Jamie and David are not the only two caseworkers in the Commonwealth who go the extra mile – or 700 miles – for their kids, but they exemplify the dedication to improving the lives of future generations that we celebrate this month. In the current climate, we can't "hug a social worker" to express our gratitude, but we can make a point of celebrating and thanking the social workers in our lives, especially as they navigate the frontlines of the COVID-19 pandemic in their efforts to keep children, youth, and all generations safe and healthy.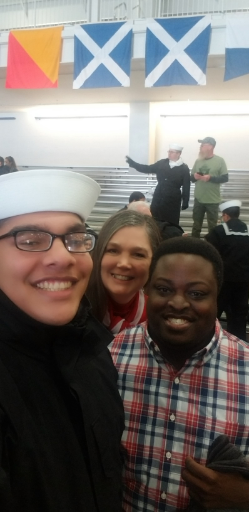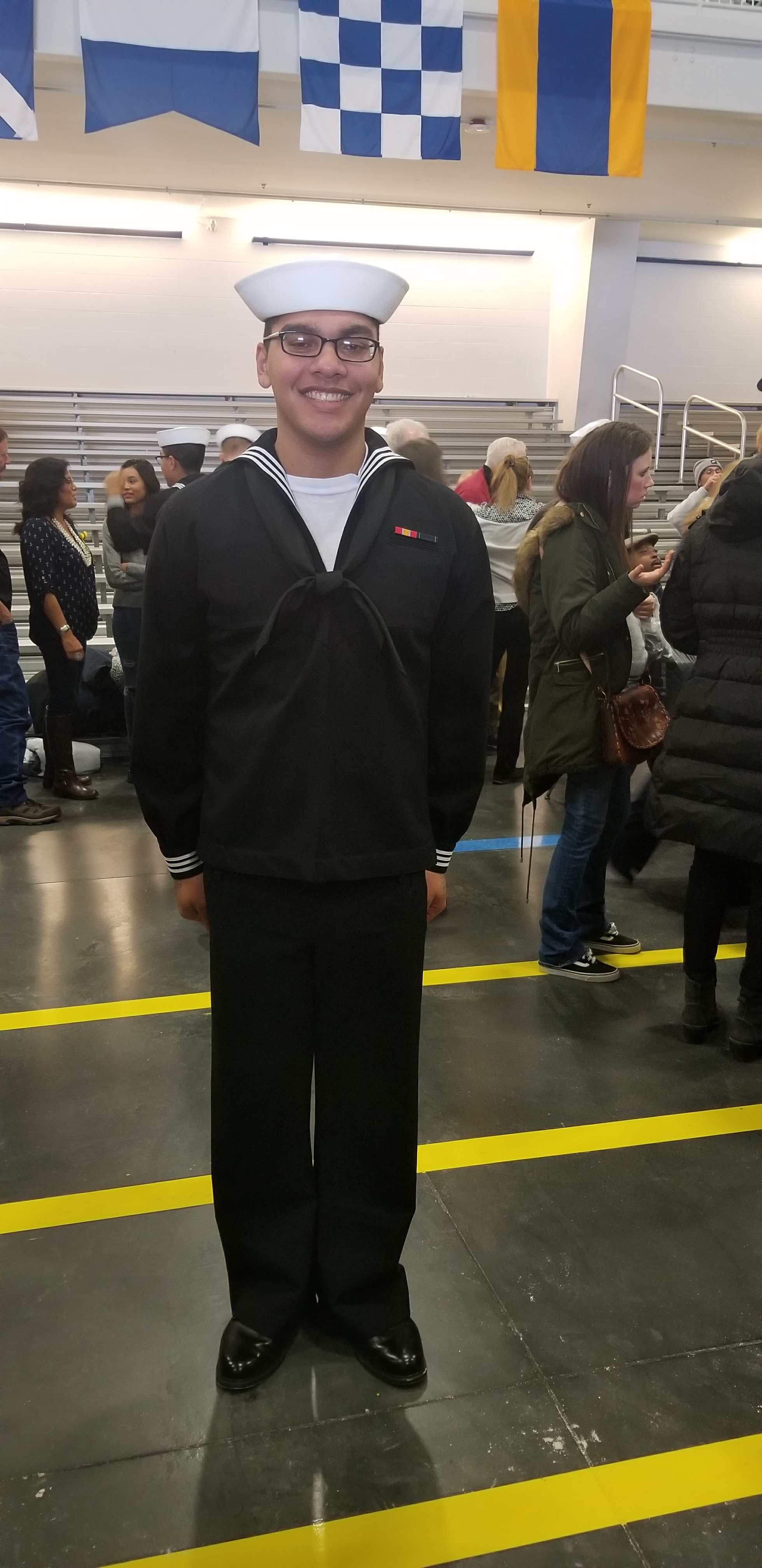 Left: Rolando, Jamie and David's post-graduation selfie!
Right: Rolando smiling for the camera after Pass in Review and Liberty Call.
---
Heather Britton is the SWAN LSI coordinator for Dauphin and Lebanon Counties. Prior to joining the SWAN prime contractor, Heather worked as a litigation paralegal at a private firm where she focused primarily on pro bono cases in education rights, marriage equality, and asylum. She also has several years' experience with domestic violence and family law clinics where she supported victims of abuse and their advocates. Heather would like to thank LSI paralegal Ann Lamoureux for informing her of Rolando, Jamie and David's story. She is grateful for the opportunity to celebrate their relationship and accomplishments, as well as the dedication of all Pennsylvania social workers.