Centre County Orphan Care Alliance Gives Meaning to "Care Community"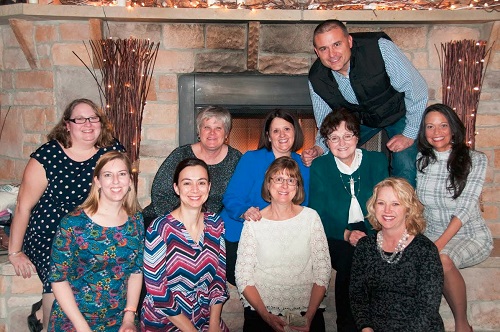 Pictured above: Volunteers from the CCOCA pose for a group photo.
By Rebecca Nallon, Program Technical Assistant
Imagine voicing one of your greatest needs and having a network of caring individuals respond in force. Recently, a Centre County birth mother pursing reunification reported running out of firewood for winter heating. The Centre County Orphan Care Alliance (CCOCA) sprang into action through their James 1:27 list, an e-mail group of over 360 community members ready and willing to support the individualized needs of adoptive, foster and birth families at a moment's notice. The response was immediate, and a forestry industry volunteer was able to tap resources and meet the mother's need.
This is one example of the services provided by the CCOCA to support vulnerable children and families in Centre County. In June 2019, the CCOCA was recognized at the 2019 Pennsylvania Permanency Conference for their charitable contributions and volunteer efforts promoting the permanency of children in foster care. Hillary Haris, Director of Outreach for the Alliance remarked, "It was a wonderful honor for us and our community. It is such a collaborative effort in our community, from politicians to caseworkers to the general public. We are thrilled to have the trust of the county and the community."
The CCOCA is on the cusp of their tenth anniversary, and the volunteer network is as strong as ever. Comprised of more than 25 local churches, professional and government agencies and community members, the group is making miracles happen in their own backyard every day. The CCOCA focuses on providing much-needed resources to the region, from meeting rooms for training and retention events to financial donations toward local county foster care recognition events.
Additionally, the Alliance provides mentorship, fellowship and meals for new foster care families who are opening their homes to locally waiting children. In addition to offering Orphan Sundays events, the group holds a fundraising and awareness banquet annually, hosting nationally recognized speakers to broadcast the need for foster parent recruitment and support those answering the call. Members also advocate for the child welfare workers who serve displaced children in foster care, spreading a message of teamwork, joint mission and emotional support during the highs and lows of daily permanency work.
The Alliance's newest endeavor is the development of a formal wraparound program for new resource parents. The program is designed to cushion the impact of a child's placement while rallying behind the family to meet their day-to-day needs. This allows the resource family to focus on the child rather than being bogged down by daily care tasks. A team of four to five individuals/families, called a "care community," commit to a year of service-based supports including providing one meal a week, assisting with yard work, driving children to sports practices or after-school activities, mentoring a resource parent's birth children through the emotions brought on by fostering, and so on.
Ms. Haris emphasized the impact she hopes this program will have on the local community. While 80% of traditional resource parents burn out after only two years, those supported by care communities flip this statistic upside-down. In addition, care community volunteers are often inspired by the families they support, and data suggests that about 30% of families pursuing fostering for the first time will come from these same care communities. With soft recruitment and informational sessions already underway, CCOCA is excited to be fully implementing their first care communities as soon as March 2020.
To learn more about CCOCA or provide support and donations, please visit ccoca.org.
Rebecca Nallon is a SWAN program technical assistant based in northeastern Pennsylvania. Prior to joining the SWAN prime contractor, Rebecca supervised and provided direct foster care and domestic adoption services, including work with the Interstate Compact for the Placement of Children, out-of-state contracting, legal risk placements, and a continuum of permanency services from pre-placement through adoption finalization and post-adoption services. She also has experience coordinating and providing community mental health services to children and youth. Rebecca was honored to be introduced to Ms. Haris and learn of the powerful impact CCOCA is having in their region.