Millers Create Large, Warm, Loving Family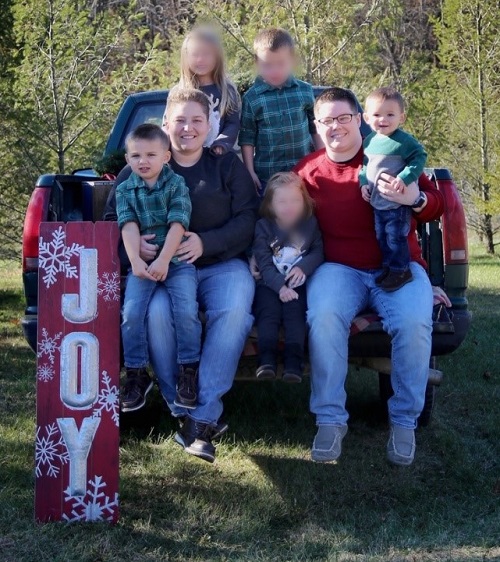 By Liz Kieser, SWAN LSI Coordinator
Brooke and Tierra Miller always knew they wanted a big family. Both grew up in large, warm and loving families, and they wanted to provide the same experience for their own children. After discussing the options available to them to make that happen, they decided to become foster parents. The Northumberland County couple was aware of the high number of children in care, and they were compelled to become foster parents to help both children and their families involved with the system. Over the last three and half years, the Millers have fostered 13 children. Currently, they are a family of eight, with six children in their care under the age of five. In June, Brooke and Tierra were honored with a Permanent Family Recognition award at the Pennsylvania Department of Human Service's 2019 Permanency Conference for their dedication to helping children and families in need.
Maintaining Connections
In addition to providing their children with a stable and loving home, the Millers believe that supporting birth parents is a crucial part of their role as foster parents. Tierra explained that she and Brooke "want to be a resource for helping parents overcome their struggles to provide better lives for their children."
They feel strongly that continuity of care is in the child's best interest, and make it a point to learn the child's routine and preferences to help keep a sense of familiarity and comfort through the transition to their home. The Millers try to keep open communication with the birth parents for the entirety of the time the child is in their care, as they believe this is most beneficial for the child.
This open communication has allowed them to remain in contact with some of the children they have fostered and their families following reunification. They shared, "It is rewarding to be able to look back at the progress a child has made from the time of placement until they are reunified with their family and know that you made a difference in that child's life during a very difficult time."
Those who work in child welfare know that reunification is a bittersweet time for foster families, and it is remarkable to have a dedicated family such as the Millers available to help not just the child during a difficult time, but the child's parents as well.
Structure and Routine
Supporting reunification efforts comes with many visits, appointments and services on top of the time the family already spends at soccer fields, hosting family potlucks and planning weekend outings. It truly does take a village, and the Millers are blessed with a large network of extended family. The couple especially credits Brooke's mom with helping to keep the family's schedule running on time. They emphasized the importance of structure and routine with so many small children in their care; the kids know exactly what to expect every evening, with the same bedtime and routine nightly.
Looking Ahead
With Christmas quickly approaching, Brooke and Tierra shared some family traditions they've started with their kids. They said that every year, the Elf on the Shelf delivers the family's Christmas tree, and the children wake up in the morning and find the Elf waiting for them with a small, special treat for each child (such as personalized ornaments). This year, the Millers hinted that the Elf just might arrive via locomotive as part of a new train set for the kids!
Brooke and Tierra have two sons, Corbin and Gavin, whom they privately adopted in 2017 and in the Spring of this year, respectively. They described their adoptions as two of the greatest days of their lives. Next year, they hope to finalize an adoption for one of their daughters, who is almost five and has been in their care since she was 18 months old. This will be their first adoption through foster care. Brooke and Tierra say that they can't really recall their lives without her, and they expect the day of her finalization to be nothing short of a dream come true.
For anyone considering becoming foster and/or adoptive parents, Tierra stressed the importance of becoming knowledgeable about the process, to read and research, and get to know other foster and adoptive families. While fostering may not be for everyone, and certainly comes with many challenges, the Millers say, "If you love children and have a desire to help people, make a difference in your community, and have the means to provide, give it a shot!"
Liz Kieser is the SWAN LSI coordinator for Northumberland, Columbia and Montour Counties. She obtained a post-baccalaureate certificate in paralegal studies and worked as an LSI paralegal for several years prior to becoming an LSI coordinator. As a paralegal, she worked on every aspect of the cases, including preparing paperwork for adoption proceedings. In her current role, she enjoys supporting and mentoring her paralegal team. Liz was excited for the opportunity to interview the Millers and get to know a wonderful family that she and her team in Northumberland County serve.