Love Builds a Happy, "Starr-Filled" Home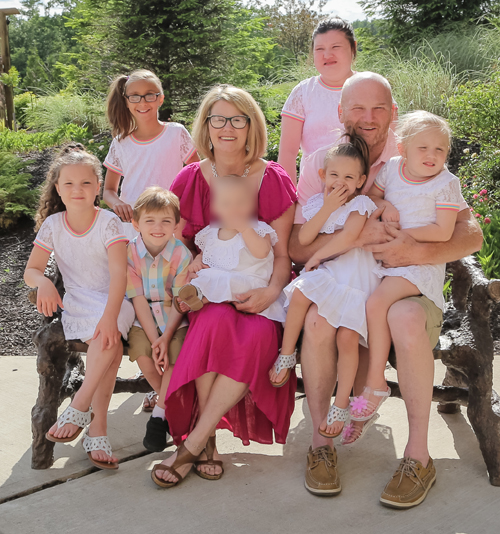 By Erin Veith, SWAN Legal Services Initiative Paralegal
No matter how a family is built, love is the foundation. And in the home of Tim and Renae Starr, there is plenty of love to go around. At the 2019 Pennsylvania Permanency Conference, Tim and Renae – and their six children – took the stage to accept a Permanent Family Recognition Award from the Pennsylvania Department of Human Services, Office of Children, Youth and Families. The scene brought tears to the eyes of many audience members; Tim Starr gave a heartfelt speech to the crowd as Renae Starr looked on and quietly calmed their very excited children. But before leaving the stage, each of the Starr children stepped up to the microphone to tell the audience two simple words: Thank you.
The Starrs began their whirlwind journey as foster parents in May 2014, when the Westmoreland County Children's Bureau contacted them about becoming a potential kinship foster family for their two granddaughters, Paige and Aubrey. Along the way, they became foster parents – then adoptive parents – to four more children who needed a permanent home, finalizing their last adoption in February 2019. In addition to the award from DHS/OCYF, Tim and Renae were recognized by the Pennsylvania State Resource Family Association in 2018 as Foster Family of the Year.
Each of the Starr children has a unique story. Lexie and Rylee met Renae when she worked as a transportation provider for Justice Works Youth Care. Before coming to live with them, Bailey, who has an Autism diagnosis, had lived in five different foster homes. Zander came to the Starr home as a respite placement and never left. No matter how the kids came to live with Tim and Renae, they all love being a Starr.
Recently, I sat down with Tim and Renae to discuss their experience as foster parents:
Q: What has been the most rewarding part of being a foster parent?
A: (Tim) The most rewarding part is when I come home from work. Renae has dinner ready for me and the kids, and we all sit down for dinner together. That's a daily thing for us. We ask how everyone's day was. Just to see the happiness in their eyes every day and just to see them smile makes me happy.
A: (Renae) The love that we get back – all of our kids call us Mom and Dad, and that is the most incredible thing I could hear. I'm giving them a loving home.
Q: How have you adjusted to being a foster and adoptive parent?
A: (Renae) My husband works hard, and we make it work. People say we're crazy, but we make it work. I wish I could take all of the foster children who need homes.
A: (Tim) Sometimes it's a little rough, but I wouldn't change anything in the world for what we did for these children.
Q: Can you describe what it's like to live in the Starr house?
A: (Tim) We do whatever we can together. Last night we went sled riding because we got snow. We are always at Wal-Mart. We spend our weekends at camp; we go fishing, biking, and riding on the quad. We do whatever we can to give them the best possible upbringing.
A: (Renae) Tim just finished a game room in the basement for the kids to play in this winter. He built them a treehouse and a swing set for the summertime, and they have a pool and a trampoline. I'm always finding notes that the kids leave me throughout the house that say, "You're my hero," and "I love you." Or the kids draw Tim a picture and put it in his lunchbox so he's surprised when he opens it at work at lunchtime.
Q: What advice would you have for other people who are thinking about becoming foster parents?
A: (Renae) Just go for it and do it. It is the most rewarding, absolutely incredible experience you will have in your life. For me, it just all fell into place, and Tim and I fell in love with each of our kids in a different way.
A: (Tim) Don't second guess it. Just open the door and run through it and help every child out there that you can. There's a lot of children out there who have a lot of bad in their life, and they're just looking to be loved by somebody.
Erin Veith is a paralegal with the SWAN Legal Services Initiative supporting the Westmoreland County Children's Bureau. In her role, Erin assisted with the adoption of two of the Starr children by completing adoption paperwork and attending the finalization hearing where she reports, "there wasn't a dry eye in the house." Erin was pleased to conduct the interview for and write this article on parents she describes as "heartfelt, endearing people with a deep love for their family.