A Dream Come True
SWAN Philanthropy Award Honors a Legacy of Generosity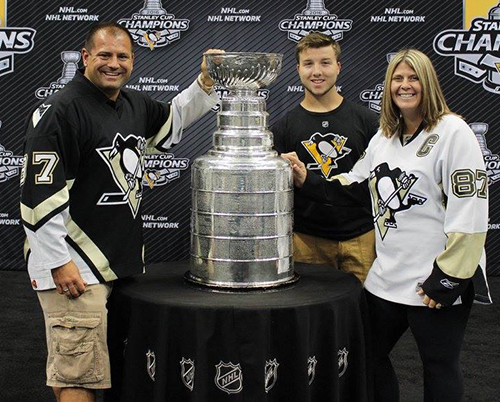 Frank and Kerri Bacco pictured with their son, Dalton
By Rebecca Nallon, Program Technical Assistant
Adoptee Dalton Bacco's dream to provide children in foster care with opportunities to spend valuable time with caring individuals was brought to life by his parents, Frank and Kerri Bacco. The Baccos founded the Living the Dream Fund after Dalton's sudden and tragic passing in 2017 as a way to honor Dalton's life and carry on his spirit of generosity. The Fund was recently recognized with the Philanthropy Award at the 2021 Pennsylvania Permanency Conference for its efforts to create meaningful experiences and outings for children in foster care in the company of a mentee.
The Baccos were inspired to mentor ever since Dalton was in high school and credit the success of their program to the many hands and hearts that have surrounded them and their permanency journey with Dalton. Leah Christy of Children's Aid Society of Mercer County, which works closely with the Living the Dream Fund, nominated the Baccos, who she described as "amazing and wonderful people." In a touching acceptance speech, the Bacco's response to receiving the award was to humbly convey their gratitude to the many people who have helped them keep Dalton's kind-hearted spirit alive. "Their family has made an immeasurable difference in the lives of so many children, and they don't plan to stop anytime soon," said Leah, crediting the Bacco family for their current and future efforts.
The Fund was initially started from donations made to the family by grieving and concerned friends and family following Dalton's death and is sustained by an annual golf outing fundraiser. The golf outing is also an occasion to celebrate Dalton's life and memory. "We'll never get to have a wedding or other milestones with Dalton otherwise," the Baccos explained. Monies raised are used to create memorable experiences such as shopping for shoes and other items, going out to eat at a restaurant, and enjoying entertainment with a mentor. These activities keep memories of Dalton close at hand. Frank, who enjoys the opportunity to talk about his son, explained that Dalton had never experienced dining at a sit-down restaurant with a full menu before joining their family. Making this experience a part of their mentorship routine helps other youth to experience everyday opportunities which they may have been deprived of in childhood.
Frank and Kerri work especially close with the Children's Aid Society of Mercer County, which helps identify youth for the mentoring program. They made a connection with the agency through a family friend, and it has become a strong working relationship enabling the Fund to regularly touch the lives of older children in foster care, particularly those being served in residential treatment programs. In addition to the sponsored outings, the Baccos make monthly trips to the agency to serve as role models for youth, supporting life skills development such as budgeting, driving, and socialization.
Dalton, a hugger, taught his parents compassionate generosity. Frank recalled the time just before they had begun to foster Dalton and had purchased him new shoes to replace the ones he had outgrown. "The next time we visited Dalton we were looking for the new shoes, but he had on the old ones with holes," he said. "When we questioned him about the new shoes, Dalton joyfully replied, 'Oh, I gave those to another boy!'" Dalton went to exclaim that with the Baccos as his new parents, he was "living the dream," and since he now had everything he ever wanted, the boy still searching for a family needed the shoes more.
Dalton recognized so many of his peers couldn't share in his joy in finding permanency, and he felt charged to give to those still waiting on family connections. "(Frank and Kerri) have a heart for the children in foster care and they are ensuring the legacy of their son continues to live on through the many lives they touch," said Leah. For more information on providing permanency to waiting children like Dalton, contact the SWAN Helpline at 570-585-SWAN.
Rebecca Nallon is a SWAN program technical assistant based in northeastern Pennsylvania. Prior to joining the SWAN prime contractor, Rebecca supervised and provided direct foster care and domestic adoption services, including work with the Interstate Compact for the Placement of Children, out-of-state contracting, legal risk placements, and a continuum of permanency services from pre-placement through adoption finalization and post-adoption services. She also has experience coordinating and providing community mental health services to children and youth.