Permanency Professional Honored for Perseverance and Passion
By Ilene Dubin, SWAN Legal Training Manager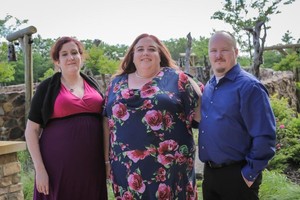 Connie with her daughter Jessica and fiancé Ronald.
Connie Snyder has been a frontline worker with Warren County Children and Youth for 13 years. In that time, she has found forever families for 64 children. While the number is itself impressive, Connie's drive to never give up, even on the hardest-to-place children, even when her supervisor might say it's time for plan B, is what is most impressive. Last summer, Connie received the Permanency Professional Recognition Award at the Pennsylvania Permanency Conference for her outstanding work.
Connie's motto is that "every child is adoptable," and it fuels her efforts to find permanency for every youth. This includes a non-verbal autistic 14-year-old boy; an 18-year-old young man who had been in care for 13 years and over 42 placements; and a severely medically fragile young lady destined to age out and be placed in a medical facility, who was 18 at the time of adoption, but functioning at the age of 18 – 24 months. For all of these youth, I feel confident in saying that if it were not for the unrelenting hope and effort of Connie, they likely wouldn't have found the permanency they did.
Connie works selflessly at her job, frequently attending matching events and working evenings and weekends. She thinks outside the box, finding matches for children in typically untapped places, such as a support group for adoptive and foster families. It is clear from her dedication that she loves her work despite the challenges and maintains her glowingly positive attitude and boundless strength to persevere through the toughest of cases.
A big part of her positive attitude stems from her ability to recognize that "each case presents its own story." In this way she is able to focus on the child at hand, rather than an amalgamation of all the children she's worked with in the past, refusing to let presumptions or negativity cloud her approach. She also believes in maintaining communication with all of the parties and people on her caseload.
Personally, Connie is happy to discuss her own time in foster care as a youth in California. While she was eventually reunited with her family, her time in care showed her what a difficult life it is for the youth, and how important the caseworker's role is to youth. Her experience has fueled her drive to make sure that the youth in care that come through her life are met with hopefulness, positivity, communication, and the assurance that she will try to find the very best home for them if they are not reunited. She is further motivated by the continued contact she receives from the families she helped grow through adoption, receiving photos years later showing that they remain happy and stable.
Outside of work, Connie recognizes the importance of enjoying time with her family and having fun, which she finds by playing video games! She is looking forward to her wedding in the fall and spending time with her now-grown daughter.
---
Ilene Dubin is the SWAN legal training division manager and previously served as a SWAN legal training specialist for the western region. Prior to coming to SWAN, Ilene represented children as a Guardian ad litem and Counsel in Allegheny County. In her role, Ilene handled all stages of a child's case, from shelter care hearing to finalization, be it by reunification, termination of parental rights and adoption, or some other permanency outcome, and through the appellate process. Ilene was inspired by her conversation with Connie and is amazed by the impact she has had on the lives of so many individual youth in Pennsylvania.