Youth Advocate Grounded in Family, Faith and Focus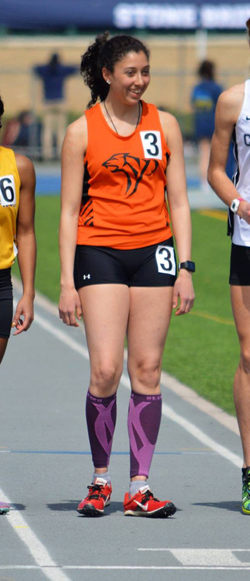 By Fawn Davies, Communications Director
For 16-year-old Alex Isbell, this season's drop in temperatures and leaves signals one thing: running. Alex is training and competing for the East Pennsboro High School Girls Cross Country team. "Cross country helps me feel better about myself," she says, "I get butterflies in my stomach every meet because I really want to do well and hit my goals." While her running goals continue to push her out of her comfort zone, Alex finds support and friendship within her team. "We're really fun and spirited, and we encourage one another," she shares, "It's very much like a family."
Alex's cross country team isn't the only family that finds significance in the fall. The season change also brings a renewed focus to adoption stories and resources as we recognize National Adoption Month in November. Adopted at the age of nine, Alex is open about sharing her story. As a result of neglect and addiction in their biological home, Alex and her two younger siblings spent several years in different foster and group homes. As the oldest, she often took on the role of a caretaker. When Alex and her siblings moved into their forever home six years ago, the transition wasn't easy. However, with time, and the support of her adoptive parents, Alex learned to be comfortable in the role of a sister, rather than parent to her siblings, and she is proud to share her story with others.
In November of 2018, Alex shared her story with legislators and adoption advocates as part of Voice for Adoption's annual Adoptive Family Portrait event during National Adoption Month in Washington, D.C. This past summer, Alex was the recipient of the Youth Advocate Award at the Pennsylvania Department of Human Services' 2019 Permanency Conference. She also talked with a Harrisburg-based women's advocate who profiled Alex's story on her professional blog.
"People started looking at me differently after the blog post was published," she said. "They thought it was amazing. It was like sharing my story gave them permission to open up about themselves."
Alex uses her adoption experience to build connections with classmates and friends with struggles of their own. "I want to know their story and for them to know mine," she explained. "I care about people and I want them to know that regardless of what happened to them in the past, it's okay."
The Isbell's home in Enola, PA is a lively gathering place, not only for the family of seven, but for friends from school, church and their neighborhood. The family ensures that relationships (as well as stomachs) are nurtured. Since Alex and her siblings came to live with the Isbells, the family has maintained a bond with the children's biological grandfather, Poppi. "I'm pretty social," Alex says, "and I think I get that from him."
It's clear that Alex's inherited outgoing and social nature has helped make her a natural leader wherever she goes. When she's not training and competing with her cross country team, Alex spends time volunteering with her church's children's ministry as a teacher for the three-year-old class and leading projects like organizing a recycling assembly through her high school Environmental Club.
With respect to adoption advocacy, she would like the child welfare community to know that every child matters, and it's worth taking risks and trying new ideas if it means it could work out to be something great. "Be as helpful as you can (in finding families for children)," she says. "Family will always be there for you, and you'll be there for them."
Spoken like a true permanency advocate.